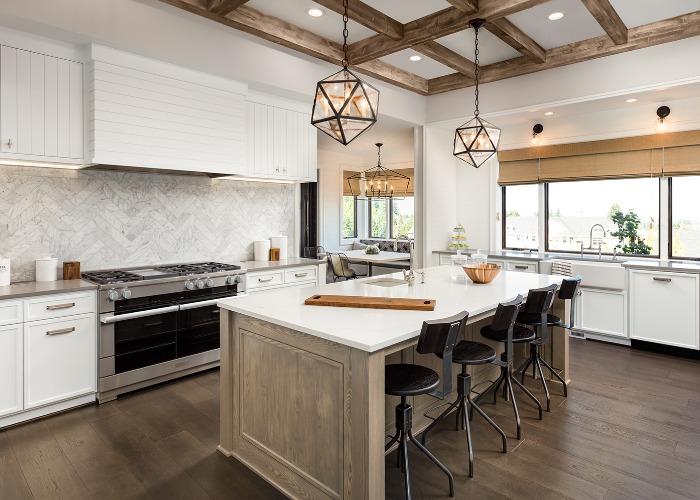 It is a known fact that having a small kitchen can be challenging. Here, we present some tips that will help you to properly harness the little space you have in the kitchen and inspire your creativity.
#1: Reduce the appliances
Since the kitchen space is not enough, there is no need to choke the kitchen with lots of appliances. This doesn't rule out the essentials, instead, the necessary items like a light set of a kitchen cabinet, a large window, a stove, microwave as well as kitchen table should be proportionated to the small size of the kitchen.
#2: Use light colors
Using a palette of light colors and lots of natural light, you can make your small kitchen look well ventilated, open and much more open.
#3: Adopt the Open Floor Plan
By using an open floor plans you could extend your tiny kitchen. The open floor plan permits the overflow of the kitchen into the dining room or the living room. Visual demarcation of the rooms can be done using separate wall colors for the different compartments. A good recommendation would be to keep the kitchen walls neutral while the ling room assumes a pumpkin-orange color to give a clear distinction between them.
#4: Keep it Sleek and keep it Simple
It is important you ensure that the surfaces in the kitchen from the floor to the tables remain smooth and always clean, has a way of making the kitchen look spacious.  The design should be minimal, the color of the wall and that of the floors should be complementary and balanced.
#5: Appropriate lighting
Poor lighting of small kitchens makes it feel more enclosed and even proper. With adequate lightening using ceiling pendant lights or fluorescent lamps below cabinets will uplift the appearance of the kitchen, giving it a better mood and outlook.
#6: Have your own storage solution to maximize space
Managing small space in the kitchen has no special formula sometimes you have to come with ingenious ways of storing your stuff to create space in the kitchen.  Use your walls as an extra storage space and add extra cabinets and draws where you can keep lots of kitchen utensils. This really helps the kitchen look more organized and presents a good way to keep the countertops clear.
You also could build storage units in your couch or construct cupboards in the ceiling or have pantries that can be easily drawn out in castors and put them in a corner in the kitchen. You can also use bags, smaller boxes, the bottom line is, adopt a unique storage solution that is compatible with your kitchen space, cost-effective and very convenient for you.
There is no need to keep sulking over the size of your kitchen, as they are no rules, get creative, as you create designs for your small kitchen. Implement these steps and enjoy the freedom that you deserve while you provide culinary solutions to your family as you use your kitchen.  However, if you think these steps are a bit cumbersome for you, that doesn't mean you still can't enjoy an amazing kitchen. All you need to do is contract the design out to experts to do wonder with it. A good place to look for such service is CuisinesRosemere.com.